My dear friends and OFG sisters, Bette and Deena surprised me this St. Patty's Day with my shop being featured on their fabulous blog "By Your Hands Blogspot"! Haven't stopped smiling since I saw it posted there :)
These two talented ladies have been selecting one shop from the Old Farmhouse Gathering team weekly and doing a beautifully written, nicely done feature and I can't thank them enough for choosing my shop this week!
Come take a peek if you get a chance..they always have wonderful posts there..much to see and learn, too.
http://www.byyourhands.blogspot.com/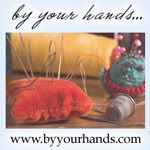 Hugs,
Debbie